Club/CBs
When you reserve your tickets you will receive an email to confirm the length of time you have to either pay or assign them to your members.
To confirm or assign your reservations please click on the person icon:

From the drop down menu please click on Reserved Seats: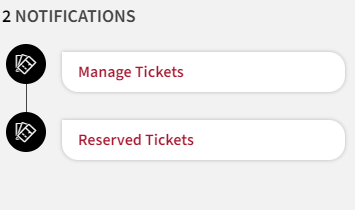 To view the booking click Show Reserved Tickets:
From here you can either assign to member or add to basket:
Members
When you club/CBs enters your details onto the ticketing system you will receive an email inviting you to activate your account. For details on how to do this please click here
Once a ticket(s) have been assigned to you, you will receive an email asking you to log in and pay. Please follow the link in your email.