Distribution of International Tickets
The Rugby Football Union is run by our membership of Affiliated Clubs and all profits are reinvested in the game. Our members have priority for international tickets as they support and promote the growth of rugby at all levels across England. Constitutionally at least 50% of the tickets at Twickenham Stadium have to be allocated to the RFU Affiliated Clubs; demand nearly always exceeds supply.
Ticket Allocations For International Matches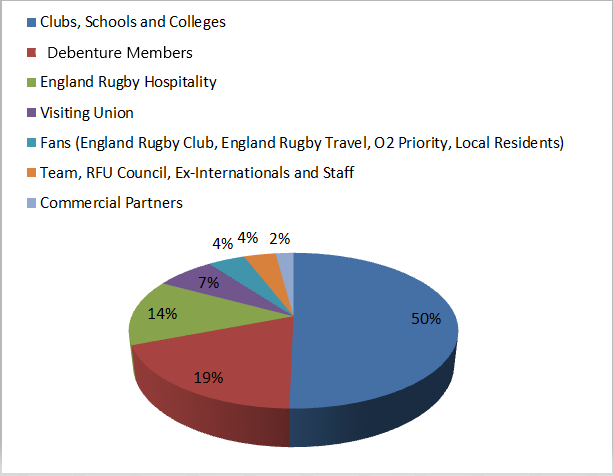 How Can I Get Tickets?
To access international tickets you need to become a member and can do so in the following ways:
Use We Play Rugby to become a member of a local club;
Become a Debenture member and reserve the right to buy a ticket for every RFU international for 10 years;
Become a member of the

England Rugby Club First XV

and jump to the front of the ticket queues to watch the best live rugby through access to exclusive ticket windows.
Travel and Hospitality Packages
Alternatively you could purchase travel or hospitality packages through our official joint venture partners:
England Rugby Hospitality the exclusive providers of hospitality packages and executive boxes at Twickenham Stadium;
England Rugby Travel – the official travel company of the RFU – who offer ticket inclusive travel and accommodation packages for home and away England fixtures.